Beard Transplant
A beard hair transplant is a surgical process where hair from the back of the head is taken and implanted to the face where there are gaps or no hair. This can be the sideburns, cheeks, chin, moustache or under the jaw line.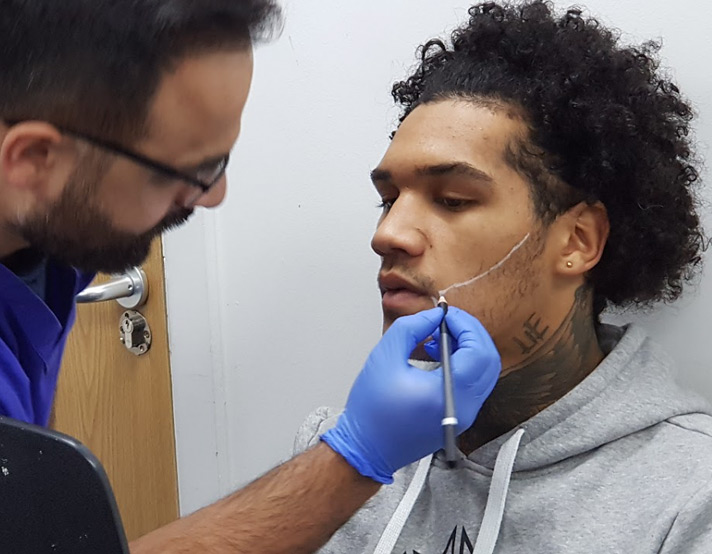 Beard Hair Transplant Method
A full beard transplant involves transplanting hairs into all of the areas of the face where beard hair normally grows. It leaves no visible linear scarring and is done under local anaesthetic.
Research shows that as many as 45% of men have been unhappy with the patchiness of their beard and sideburns. This is becoming increasingly more common. Stress, diets, medications and allergies can trigger hair loss in beards as well as the scalp in men.
In many cultures, facial hair is a sign of prestige and masculinity. A beard transplant helps men look mature, more masculine and adds a look of virility to their appearance.
FAQ's
Do hair transplants work for beards?
Beard transplant work like normal hair transplants. As long as the donor area hair is healthy and there is no skin conditions on the face that can impact the growth of hair follicles, the success of beard hair transplants is the same as the rest of the scalp. British boxer Conor Benn underwent a very successful beard transplant where over 2000 grafts were successfully transplanted to create a new beard.
How much does a beard transplant cost?
The average cost of a hair transplant for women in hair clinics in Britain varies between £3000-£5000. Some clinics charge per graft, i.e., the more grafts they give the more they charge, whereas others charge per surgery. There is an exception in the UK with some clinics charging very high prices which many patients find off putting.

It is important to choose a clinic that offers a clear comprehensive package that includes aftercare reviews and treatment. Patients should check whether the surgeon has performed successful beard transplants on other patients with similar hair types to theirs. It is recommended to avoid clinics who charge for surgery only and provide little to no aftercare as there will be additional hidden costs that you may incur.
How long do beard hair transplants last?
The transplanted beard hair should last a lifetime, it should behave and stay put like the hair at the back of the head does. Initially after the beard transplant there is a shedding stage that lasts up to three months or so and then new hair come through. Once they have started to grow, the roots remain indefinitely and continue to grow like normal bard and scalp hair does. It can take up to 12 months for the full beard transplant results. Many patients benefit from PRP treatment to boost growth more quickly.
View more information within our Knowledge Base
Anybody considering having treatment for hair loss is advised to undergo a consultation to discuss their concerns and suitability for hair transplantation surgery or restoration treatments.
The British Hair Clinic offers free consultations allowing people to learn more about the various options available to them before undergoing any treatment.
The clinic is happy to answer questions and concerns people may have about their hair.